Les rues fermées : du collectif à la collectivité. Regards croisés Nantes/Recife
The article analyses restricted and gated streets in both different context, Nantes in France and Recife in Brazil. This double analysis minimizes the effects of context and tries to perceive generic meaning in the restricted city. Starting from observations and interviews with the representatives of local authorities and the dwellers, several examples are used to understand the installation of an obstacle which creates a border and imposes negotiation (not necessarily free from tensions) between the dwellers group to be formed and the local authorities. This limit preserves a community of interest, more than a social affinity community. This kind of stability can be frictional or based on a soft consensus. Nevertheless, the ambiguous view of the public local authorities contains space for negotiation. This negotiation initiates urban governance based on malleable and porous borders (physical and legal).
Cet article propose une analyse des rues fermées, publiques ou privées, dans deux contextes différents, Nantes en France et Recife au Brésil. Ce double regard analytique permet de s'extraire des effets de contextes pour tenter de percevoir le sens commun de ces rues dans la fabrique de la ville fermée. A partir d'une série d'observations et d'entretiens auprès de responsables techniques ou politiques des pouvoirs publics locaux, ainsi qu'auprès d'habitants, plusieurs rues fermées servent à appréhender la manière dont l'installation d'un obstacle au passage instaure une frontière qui impose un rapport négocié, non exempt de frictions, du collectif à constituer à la collectivité. Cette limite ne sert pas tant un entre-soi affinitaire, qu'elle ne préserve des intérêts communs, pour lesquels il s'agit de former un collectif. Il faut donc trouver un équilibre, qui s'avère être soit frictionnel, soit établi sur la base d'un consensus a minima. Mais les pouvoirs publics, avec un discours ambigu, laisse des marges de manœuvre à une négociation en initiant une gouvernance urbaine sur les bases de frontières, physiques et juridiques, malléables et poreuses.
Fichier principal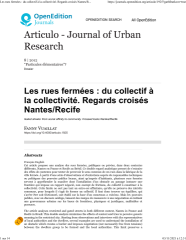 2012 les rues fermées collectif à la collectivité Vuaillat_Articulo.pdf (1.03 Mo)
Télécharger le fichier
Origin : Publisher files allowed on an open archive