De la nature à vendre : fabrique urbaine et construction d'extra-territorialité à Recife (PE, Brésil)
The new trends of the real estate market in Recife (PE, Brazil) sketch up the current dynamics of the city-making process. The integration of a topic like nature in the design and offer of the gated communities programs reveals the way the process of city-making is regenerating itself within the insular and fragmented metropolis. This paper intends in the first hand to highlight the recent move in their marketing rhetoric by the property developers. Then various examples (description of several condomínios fechados in or just out of town, city official stand or dwellers' quotations) shall illustrate the regeneration of the motivations which underlie the city-making of the fragmented metropolis by calling nature and leisure like the new ideals for living. Either through the conception and promotion of the programs or out of the dwellers' quoted feelings the recurrence of the rhetorical figure of extra-territoriality highlights the general move toward this way of living.
Les nouvelles tendances du marché immobilier à Recife (PE, Brésil) dessinent les dynamiques de la fabrique de la ville. L'intégration du thème de la nature dans la conception et la promotion de programmes immobiliers fermés et sécurisés montre la manière dont la fabrique de la ville insulaire et fragmentée se renouvelle. Cet article propose, dans un premier temps, de mettre en lumière le récent changement de rhétorique marketing des promoteurs immobiliers. Puis, divers exemples (portraits de plusieurs condomínios fechados en ville ou à ses marges, prise de position municipale ou encore discours des habitants) illustreront le renouvellement des ressorts qui sous-tendent la fabrique de la ville fragmentée, en sollicitant la nature et les loisirs comme nouvel idéal de l'habiter. La récurrence de la figure de l'extra-territorialité, que ce soit dans la conception ou la promotion des programmes ou dans la sensation des résidants de ces nouveaux complexes résidentiels, illustre une manière d'habiter se généralisant.
Fichier principal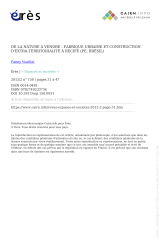 2012 de la nature à vendre Vuaillat_Espaces et sociétés.pdf (1.1 Mo)
Télécharger le fichier
Origin : Publisher files allowed on an open archive