The Grey Paradox: How Oil Owners Can Benefit From Carbon Regulation
This paper studies how oil owners can benefit from carbon taxation. We build a Hotelling-like model with three energy resources: oil (exhaustible, polluting), coal (non exhaustible, very polluting) and solar energy (non exhaustible, non polluting). The CO2 concentration must be kept under a carbon ceiling. The optimal extraction path is decentralized by a tax on emissions, and tax revenues are not redistributed. We characterize the different extraction paths. We focus on the case where both oil and coal are extracted and oil gets exhausted. When oil is cheaper to extract than coal, if oil is sufficiently scarce, or if the extraction cost of oil is close enough to the extraction cost of coal or if its pollution content is low enough, or if the demand elasticity is low enough, the profits of oil owners will increase when the carbon regulation is tightened. When oil is more expensive to extract than coal, and both resources are used and oil exhausted, tightening the carbon regulation increases the oil profits.
Cet article théorique étudie comment les pétroliers peuvent bénéficier de la taxation du carbone. Nous construisons un modèle d'extraction à la Hotelling, avec trois sources d'énergie: le pétrole (épuisable, polluant), le charbon (non épuisable, très polluant) et le solaire (non épuisable, non polluant). Un plafond de CO2 est introduit sous lequel la concentration de CO2 doit être maintenue. L'extraction optimale des ressources énergétiques est décentralisée par une taxe sur les émissions, et les recettes fiscales ne sont pas redistribuées. Nous déterminons les conditions sur les paramètres pour obtenir les différents sentiers d'extraction. Nous nous intéressons aux sentiers où le pétrole et le charbon sont extraits et le pétrole épuisé. Quand le pétrole est moins cher à extraire que le charbon, si le pétrole est suffisamment rare, ou si le coût d'extraction du pétrole est suffisamment proche du coût d'extraction du charbon ou si son coefficient de pollution est assez faible, ou encore si l'élasticité de la demande est assez faible, les profits des pétroliers vont augmenter lorsque le plafond de CO2 est diminué. Quand le pétrole est plus coûteux à extraire que le charbon, et que ces deux ressources sont utilisées et le pétrole épuisé, resserrer la contrainte de plafond de CO2 augmente les profits des pétroliers.
Fichier principal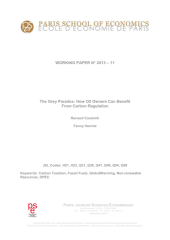 wp_201311.pdf (2.43 Mo)
Télécharger le fichier
Origin : Files produced by the author(s)